Honda Crosstour
Honda Crosstour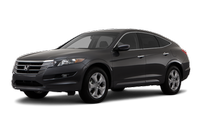 The Honda Crosstour is essentially a tall wagon version of the previous-generation Accord sedan that features increased ride height and available all-wheel drive (AWD), a combination that delivers more utility and more all-weather capability. It's certainly more versatile than a regular Accord, but that tapering roof line means there's considerably less cargo space than there would be in a conventional wagon or SUV with its traditional boxy shape.
See also:
Pandora®
If an error occurs while playing Pandora®, you may see the following error messages. If you cannot clear the error message, contact a dealer. U.S. models ...
Steering Wheel
To adjust, pull the adjustment lever towards you, adjust to the desired position, then lock the lever back in place. ...
Immobilizer System
The immobilizer system protects your vehicle from theft. If an improperly coded key (or other device) is used, the engine's fuel system is disabled. When you turn the ignition switch to the ON (I ...