Tire Rotation
Rotating tires according to the maintenance messages on the information display/ multi-information display helps to distribute wear more evenly and increase tire life.
■ Tires without rotation marks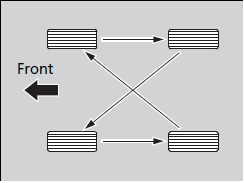 Rotate the tires as shown here.
■ Tires with rotation marks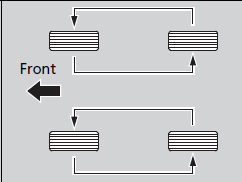 Rotate the tires as shown here.
Tires with directional tread patterns should only be rotated front to back (not from one side to the other).
Directional tires should be mounted with the rotation indication mark facing forward, as shown below.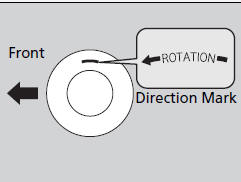 See also:
Checking Wiper Blades
If the wiper blade rubber has deteriorated, it will leave streaks and the metal wiper arm may scratch the window glass. ...
Emissions Testing
Testing of Readiness Codes Your vehicle uses "readiness codes," as part of its onboard self diagnostic system. Some states refer to these codes during testing to see if your vehicle's emissi ...
Floor Mats
The floor mats that came with your vehicle hook over the floor mat anchors. This keeps the floor mats from sliding forward, possibly interfering with the pedals, or backwards, making the front p ...