Honda Pilot
Honda Pilot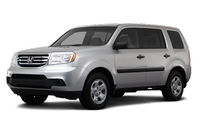 At its debut, the Honda Pilot essentially defined the emerging market for midsize crossover SUVs. Offering decent V6 power, above-average fuel economy, easy maneuverability, plenty of interior comfort and versatility, and seven-to-eight-passenger seating, the Pilot was exactly the kind of vehicle that families leery of the minivan stigma were looking for. Of course, a lot more crossover SUVs have come out since the original Honda Pilot. Honda responded with a full redesign, and we've found the second-generation Pilot to be a little off the mark.
See also:
Safe Driving
...
Options During a Call
The following options are available during a call. Mute: Mute your voice. Transfer: Transfer a call from HFL to your phone. Dial Tones: Send numbers during a call. This is useful when you call an a ...
Tire Service Life
The life of your tires is dependent on many factors, including driving habits, road conditions, vehicle loading, inflation pressure, maintenance history, speed, and environmental conditions (even wh ...