Shift Lever Does Not Move
Follow the procedure below if you cannot move the shift lever out of the (P position.
■Releasing the Lock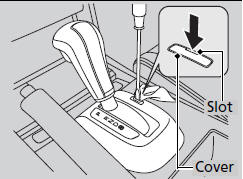 1. Set the parking brake.
Models without smart entry system
2. Remove the key from the ignition switch.
Models with smart entry system
2. Remove the built-in key from the smart entry remote.
All models
3. Wrap a cloth around the tip of a small flattip screwdriver. Put it into the shift lock release slot as shown in the image, and remove the cover.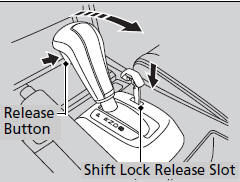 4. Insert the key into the shift lock release slot.
5. While pushing the key down, press the shift lever release button and place the shift lever into

.
-The lock is now released. Have the shift lever checked by a dealer as soon as possible.
See also:
Fuel Economy
Actual Mileage and EPA Fuel Economy Estimates Comparison. Fuel economy is not a fixed number. It varies based on driving conditions, driving habits and vehicle condition. Therefore, it is not possi ...
Immobilizer System
The immobilizer system prevents a key that has not been pre-registered from starting the engine. Each key contains electronic transmitters that use electronic signals to verify the key. Pay att ...
Safety When Performing Maintenance
Some of the most important safety precautions are given here. However, we cannot warn you of every conceivable hazard that can arise in performing maintenance. Only you can decide whether or not y ...