Radiator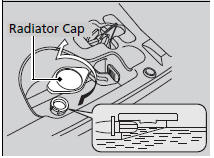 1. Make sure the engine and radiator are cool.
2. Turn the radiator cap counterclockwise and relieve any pressure in the coolant system. Do not push the cap down when turning.
3. Push down and turn the radiator cap counterclockwise to remove it.
4. The coolant level should be up to the base of the filler neck. Add coolant if it is low.
5. Put the radiator cap back on, and tighten it fully.
6. Pour coolant into the reserve tank until it reaches the MAX mark. Put the cap back on the reserve tank.
Radiator
WARNING
Removing the radiator cap while the engine is hot can cause the coolant to spray out, seriously scalding you. Always let the engine and radiator cool down before removing the radiator cap.
NOTICE
Pour the fluid slowly and carefully so you do not spill any. Clean up any spills immediately; they can damage components in the engine compartment.
See also:
Fastening a Seat Belt
After adjusting a front seat to the proper position, and while sitting upright and well back in the seat: 1.Pull the seat belt out slowly. 2.Insert the latch plate into the buckle, then tug on ...
Adjusting the Sound
1. Press the SETTINGS button. 2. Rotate to select Audio Settings, then press . 3. Rotate to select Sound, then press . Rotate to scroll through the following choices: The SVC has four ...
Parts and Fluids Used in Maintenance Service
The use of Honda genuine parts and fluids is recommended when maintaining and servicing your vehicle. Honda genuine parts are manufactured according to the same high quality standards used in Honda ...