When You Cannot Open the Tailgate
■What to Do When Unable to Open the Tailgate
If you cannot open the tailgate, use the following procedure.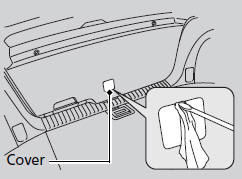 1. Use a flat-tip screwdriver and remove the cover on the inside of the tailgate.
- Wrap the flap-tip screwdriver with a cloth to prevent scratches.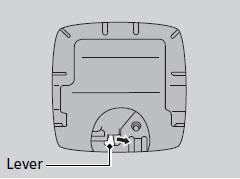 2. To open the tailgate, push the tailgate while sliding the lever to the side using a flat-tip screwdriver.
What to do-Following up
After taking these steps, contact a dealer to have the vehicle checked.
When you open the tailgate from inside, make sure there is enough space around the tailgate, and it does not hit anyone or any object.
See also:
Immobilizer System
The immobilizer system prevents a key that has not been pre-registered from starting the engine. Each key contains electronic transmitters that use electronic signals to verify the key. Pay attentio ...
If the Low Oil Pressure Indicator Comes On
Reasons for the indicator to come on Comes on when the engine oil pressure is low. What to do as soon as the indicator comes on 1. Immediately park the vehicle on level ground in a safe place. 2 ...
Playing the AM/FM Radio
Auto Select Use the auto select feature to scan both bands and store the strongest station in each preset. 1. Press the SETUP button. 2. Rotate to select Auto Select, then press . 3. ...