Brake Fluid
Check the fluid level in the brake fluid reservoir monthly.
Replace the brake fluid according to the maintenance messages shown on the information display.
Always use Honda Heavy Duty Brake Fluid DOT 3. If it is not available, you should use only DOT 3 or DOT 4 fluid, from a sealed container, as a temporary replacement.
Using any non-Honda brake fluid can cause corrosion and decrease the life of the system. Have the brake system flushed and refilled with Honda Heavy Duty Brake Fluid DOT 3 as soon as possible.
Brake fluid marked DOT 5 is not compatible with your vehicle's braking system and can cause extensive damage.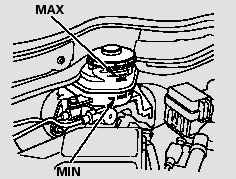 The fluid level should be between theMINandMAXmarks on the side of the reservoir. If the level is at or below the MIN mark, your brake system needs attention. Have the brake system inspected for leaks or worn brake pads.
See also:
Checking Wiper Blades
If the wiper blade rubber has deteriorated, it will leave streaks and the metal wiper arm may scratch the window glass. ...
Audio with Touch Screen
Use the touch screen to operate the audio system. Icons that appear on the screen vary by the source selected. Select to go back to the previous screen. Use the / / / icons to turn the ...
Seat Belt Inspection
Regularly check the condition of your seat belts as follows: • Pull each belt out fully, and look for frays, cuts, burns, and wear. • Check that the latches work smoothly and the belts retract ...