Honda Pilot
Honda Pilot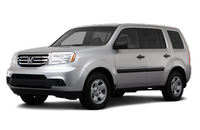 At its debut, the Honda Pilot essentially defined the emerging market for midsize crossover SUVs. Offering decent V6 power, above-average fuel economy, easy maneuverability, plenty of interior comfort and versatility, and seven-to-eight-passenger seating, the Pilot was exactly the kind of vehicle that families leery of the minivan stigma were looking for. Of course, a lot more crossover SUVs have come out since the original Honda Pilot. Honda responded with a full redesign, and we've found the second-generation Pilot to be a little off the mark.
See also:
Gauges.
Gauges include the speedometer, tachometer, fuel gauge, and related indicators. They are displayed when the ignition switch is in ON Speedometer Displays your driving speed in mph (U.S.) or km/h ...
Engine Coolant
Specified coolant: Honda Long Life Antifreeze/Coolant Type 2 This coolant is premixed with 50% antifreeze and 50% water. Do not add any straight antifreeze or water. We recommend you check the en ...
Paddle Shifters
● Paddle shifters allow you to shift gears much like a manual transmission (1st through 6th). This is useful for engine braking. ● D-paddle shift mode: The transmission will shift back ...