Controls
Clock
Models without navigation system Audio system with touch screen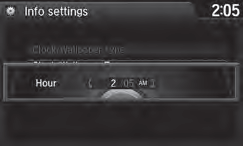 1 Press the DISP button, then select Info Settings.
2 Select Clock Adjustment.
3 Rotate

to change hour, then press

.
4 Rotate

to change minute, then press

.
Audio system without touch screen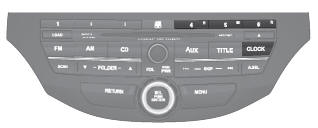 1 Press the CLOCK button until you hear a beep. The displayed time begins flashing.
2 Press the

(Hour) or

(Minute) button to set the time. Press the

(Reset) button to set the time to the nearest hour.
3 Press the CLOCK button again to set the time.
Models with navigation system
The navigation system receives signals from GPS satellites, updating the clock automatically.
These indicators are used to show how to operate the selector knob or the MENU/SEL (Menu/Selector) knob.
Rotate

to select.
Press

to enter.
See also:
Light Switches
If you remove the key from the ignition switch or leave the power mode in VEHICLE OFF (LOCK) while the lights are on, a chime sounds when the driver's door is opened. When the lights are on, t ...
Airbag Care
You do not need to, and should not, perform any maintenance on or replace any airbag system components yourself. However, you should have your vehicle inspected by a dealer in the following situatio ...
Brake Assist System
Designed to assist the driver by generating greater braking force when you depress the brake pedal hard during emergency braking. ■ Brake assist system operation Press the brake pedal firml ...