Adjusting the Steering Wheel
The steering wheel height and distance from your body can be adjusted so that you can comfortably grip the steering wheel in an appropriate driving posture.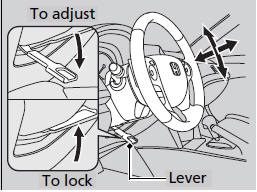 1. Push the steering wheel adjustment lever down.
- The steering wheel adjustment lever is under the steering column.
2. Move the steering wheel up or down, and in or out.
- Make sure you can see the instrument panel gauges and indicators.
3. Pull the steering wheel adjustment lever up to lock the steering wheel in position.
- After adjusting the position, make sure you have securely locked the steering wheel in place by trying to move it up, down, in, and out.
WARNING
Adjusting the steering wheel position while driving may cause you to lose control of the vehicle and be seriously injured in a crash.
Adjust the steering
Make any steering wheel adjustments before you start driving.
See also:
Oil Check
We recommend that you check the engine oil level every time you refuel. Park the vehicle on level ground. Wait approximately three minutes after turning the engine off before you check the oi ...
Tire and Loading Information Label
The label attached to the driver's doorjamb provides necessary tire and loading information. Tire and Loading Information Label The tire and loading information label attached to the driver's ...
For Safe Driving
The following pages explain your vehicle's safety features and how to use them properly. The safety precautions below are ones that we consider to be among the most important. ...