Windshield Wipers and Washers
Windshield Wiper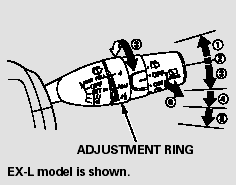 1. MIST
2. OFF
3. INT Intermittent
4. LO Low speed
5. HI High speed
6. Windshield washers
Push the right lever up or down to select a position.
MIST - The wipers run at high speed until you release the lever.
OFF - The wipers are not activated.
INT - The wipers operate every few seconds. At low speed and high speed, the wipers run continuously.
On all models except LX
Vary the delay by turning the adjustment ring. If you turn it to the shortest delay (

position), the wipers change to low speed operation when the vehicle speed exceeds 12 mph (20 km/h).
The length of the wiper interval is varied automatically according to the vehicle's speed.
LO - The wipers run at low speed.
HI - The wipers run at high speed.
WindshieldWashers
Pull the wiper control lever toward you, and hold it. The washers spray until you release the lever. The wipers run at low speed, then complete one more sweep after you release the lever.
Rear Window Wiper and Washer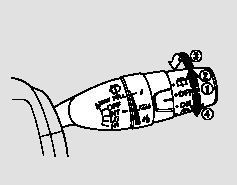 1. OFF When you turn the wiper switch to the ''OFF'' position, the wiper will return to its parked position.
2. Rotate the switch clockwise to turn the rear window wiper ON.
The wiper operates every 7 seconds after completing two sweeps.
3. Hold past ON to activate the rear window wiper a few times and to spray the rear window washer.
4. Rotate the switch counterclockwise also to spray the window washer and turn the wiper on.
When you shift the transmission to the reverse position with the front windshield wiper activated, the rear wiper operates automatically even if the rear wiper switch is off.
The rear window washer uses the same fluid reservoir as the windshield washer.
See also:
Seat Belt Inspection
Regularly check the condition of your seat belts as follows: • Pull each belt out fully, and look for frays, cuts, burns, and wear. • Check that the latches work smoothly and the belts retract ...
Towing Preparation
■Towing Load Limits Your vehicle can tow a trailer if you carefully observe the load limits, use the proper equipment, and follow the towing guidelines. Check the load limits before drivin ...