Keys and Locks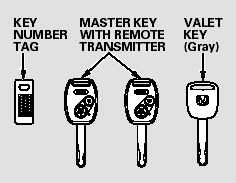 The master key fits all the locks on your vehicle. The valet key works only in the ignition and the driver's door lock. You can keep the glove box locked when you leave your vehicle and the valet key at a parking facility.
You should have received a key number tag with your keys. You will need this key number if you ever have to get a lost key replaced. Use only Honda-approved key blanks.
These keys contain electronic circuits that are activated by the immobilizer system. They will not work to start the engine if the circuits are damaged.
Protect the keys from direct sunlight, high temperature, and high humidity.
Do not drop the keys or set heavy objects on them.
Keep the keys away from liquids.
If they get wet, dry them immediately with a soft cloth.
The valet key does not contain a battery. Do not try to take it apart.
See also:
Locking a Door Without Using a Key
Locking the driver's door Push the lock tab rearward a or push the master door lock switch in the lock direction and close the door. Locking the passenger's doors Push the lock ta ...
Climate Control System
Press the AUTO button to activate the climate control system. Press the button to turn the system on or off. Press the button to defrost the windshield. Models with navigation system The climat ...
Cruise Control
● Cruise control allows you to maintain a set speed without keeping your foot on the accelerator pedal. ● To use cruise control, press the CRUISE button, then press –/SET once you ha ...