Power Steering Fluid Check
4-cylinder models
Specified fluid: Honda Power Steering Fluid
We recommend that you check the power steering fluid level every time you refuel.
Check when the engine is not running.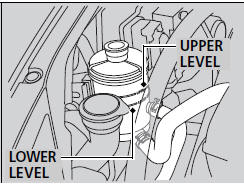 1. Look at the side of the reservoir. The fluid should be between the UPPER LEVEL and LOWER LEVEL.
2. Add power steering fluid if necessary to the UPPER LEVEL mark.
- Inspect the system for a leak. If the fluid level goes below the LOWER LEVEL frequently, have the system inspected as soon as possible.
NOTICE
Turning the steering wheel to full left or right lock and holding it there can damage the power steering pump.
NOTICE
Pour the fluid slowly and carefully so you do not spill any. Clean up any spills immediately; it could damage components in the engine compartment.
See also:
Ignition Switch
The ignition switch has four positions: LOCK (0), ACCESSORY (I), ON (II), and START (III). LOCK (0) - You can insert or remove the key only in this position. To turn the key, the shift lever mus ...
If the Brake System Indicator (Red) Comes On
Reasons for the indicator to come on - The brake fluid is low. - There is a malfunction in the brake system. What to do when the indicator comes on while driving Press the brake pe ...
LaneWatchTM
Is an assistance system that allows you to check the passenger side rear areas displayed on the audio/information screen when the turn signal is activated to the passenger's side. A camera in ...