Checking the Battery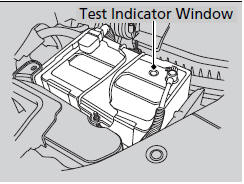 Check the battery condition monthly. Look at the test indicator window and check the terminals for corrosion.
If your vehicle's battery is disconnected or goes dead:
• The audio system is disabled.
• The clock resets.
• The navigation system* is disabled.
See also:
Engine Number and Transmission Number
See the image below for the locations of your vehicle's engine number and transmission number. ...
Adjusting the Seat Positions
Adjust the driver's seat as far back as possible while allowing you to maintain full control of the vehicle. You should be able to sit upright, well back in the seat and be able to adequately ...
Gracenote® End User License Agreement
This application or device contains software from Gracenote, Inc. of Emeryville, California ("Gracenote"). The software from Gracenote (the "Gracenote Software") enables this application to ...