Checking the Battery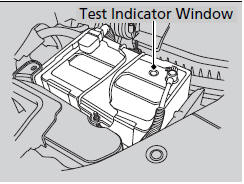 Check the battery condition monthly. Look at the test indicator window and check the terminals for corrosion.
If your vehicle's battery is disconnected or goes dead:
• The audio system is disabled.
• The clock resets.
• The navigation system* is disabled.
See also:
Fuses
The vehicle's fuses are contained in three fuse boxes. The interior fuse box is located under the dashboard on the driver's side. The fuse label is attached under the steering column. The ...
Engine Coolant
Specified coolant: Honda Long Life Antifreeze/Coolant Type 2 This coolant is premixed with 50% antifreeze and 50% water. Do not add any straight antifreeze or water. We recommend you check the en ...
Region Setting*
The audio system's region setting will be lost when the battery is disconnected or goes dead. If the Region Select screen appears, you need to set the region for the audio system. Follow th ...