Tailgate
The tailgate will lock when you lock the driver's door with the key, the remote transmitter, the master door lock switch, or the lock tab on the driver's door.
To unlock the tailgate, turn the key clockwise twice, push the rear of the master door lock switch, or push the UNLOCK button twice on the remote transmitter.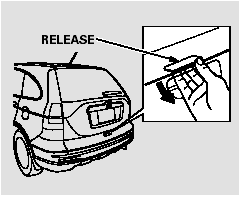 To open the tailgate, push the release, and lift up. To close the tailgate, use the tailgate handle to lower it, then press down on the back edge.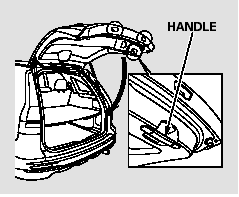 Keep the tailgate closed at all times while driving to avoid damaging the tailgate and to prevent exhaust gas from getting into the interior. See Carbon Monoxide Hazard.
See also:
HazardWarning Button
Push the button between the center vents to turn on the hazard warning lights (four-way flashers). This causes all four outside turn signals and both indicators in the instrument panel to flash. ...
VSA® OFF Button
• The vehicle stability assist (VSA®) system helps stabilize the vehicle during cornering, and helps maintain traction while accelerating on loose or slippery road surfaces. • VSA® comes on ...
Seat Heaters
If equipped Both front seats are equipped with seat heaters. The passenger seat only has heaters in the seat bottom because of the side airbag cutoff system. The ignition switch must be in the ...