Opening/Closing the Tailgate Using the Tailgate Release Button
When all the doors are unlocked, the tailgate is unlocked. Press the tailgate release button and lift open the tailgate.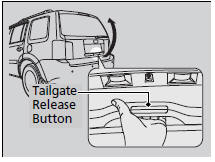 To manually close the tailgate, grab the inner handle, pull the tailgate down, and push it closed from outside.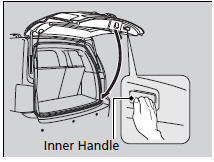 See also:
What to Do If
The ignition switch does not turn from to . Why? The steering wheel may be locked. ● Try to turn the steering wheel left and right while turning the ignition key*. ● Move ...
Precautions While Driving
Driving Guidelines for Your Utility Vehicle Utility vehicles have a significantly higher rollover rate than other types of vehicles. To prevent rollovers or loss of control: Take corners at slower ...
Rearview Camera
About Your Rearview Camera Models without navigation system The audio/information screen can display your vehicle's rear view. The display automatically changes to a rear view when the shift leve ...