Front Wiper/Washer
The windshield wipers and washers can be used when the ignition switch is in ON

.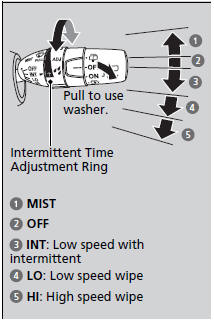 MIST
The wipers run at high speed until you release the lever.
Wiper switch (OFF, INT, LO, HI)
Change the wiper switch setting according to the amount of rain.
Adjusting the delay
Turn the adjustment ring to adjust the wiper delay.

Long delay
Short delay
Washer
Sprays while you pull the lever toward you. When you release the lever, the wipers make two or three more sweeps before stopping.
Wipers and Washers
NOTICE
Do not use the wipers when the windshield is dry. The windshield will get scratched, or the rubber blades will get damaged.
NOTICE
In cold weather, the blades may freeze to the windshield, becoming stuck. Operating the wipers in this condition may damage the wipers. Use the defroster to warm the windshield, then turn the wipers on. Turn the washers off if no washer fluid comes out. The pump may get damaged. If the vehicle speeds up while the wipers are operating intermittently, the length of the wipe interval shortens. When the vehicle starts moving, the wipers make a single sweep.
When the vehicle speeds up, the wiper operation's shortest delay setting

and the LO setting become the same.
See also:
Setting the Clock
Models with audio/information screen You can adjust the time in the clock display, using the CLOCK button with the ignition switch in ON . 1.Press the CLOCK button to access the clock adjustment ...
Automatic Import of Cellular Phonebook and Call History
When your phone is paired, the contents of its phonebook and call history are automatically imported to HFL. Automatic Import of Cellular Phonebook and Call History When you select a person from ...
ABS (Anti-lock Brake System)
The ABS may not function correctly if you use an incorrect tire type and size. When the ABS indicator comes on while driving, there may be a problem with the system. While normal braking is no ...