Maintenance Service Items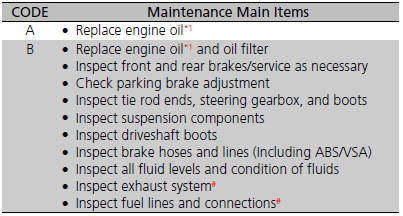 *1: If a message SERVICE does not appear more than 12 months after the display is reset, change the engine oil every year.
*2: If you drive in dusty conditions, replace the air cleaner element every 15,000 miles (24,000 km).
*3: If you drive primarily in urban areas that have high concentrations of soot in the air from industry and from diesel-powered vehicles, replace the dust and pollen filter every 15,000 miles (24,000 km).
# : See information on maintenance and emissions warranty.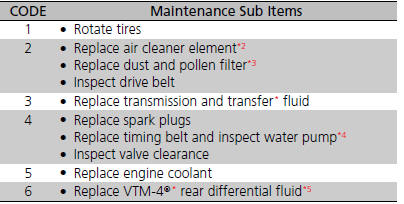 *4: If you drive regularly in very high temperatures (over 110ºF, 43ºC), in very low temperatures (under -20ºF, -29ºC), or tow a trailer, replace every 60,000 miles/100,000 km.
*5: Driving in mountainous areas at very low vehicle speeds or trailer towing results in higher level of mechanical (shear) stress to fluid. This requires differential fluid changes more frequently than recommended by the Maintenance Minder. If you regularly drive your vehicle under these conditions, have the differential fluid changed at 7,500 miles (12,000 km), then every 15,000 miles (24,000 km).
Maintenance Service Items
Independent of the Maintenance Minder information, replace the brake fluid every 3 years.
Inspect idle speed every 160,000 miles (256,000 km).
Adjust the valves during services A, B, 1, 2, or 3 if they are noisy.
See also:
Opening and Closing the Windows
Opening/Closing the Power Windows The power windows can be opened and closed when the ignition switch is in ON , using the switches on the doors. The driver side switches can be used to open and c ...
Security System Alarm
The security system alarm activates when the doors, tailgate, or hood are opened without the key, remote transmitter, or smart entry system. ■ When the security system alarm activates The h ...
Steering Wheel
To adjust, pull the adjustment lever towards you, adjust to the desired position, then lock the lever back in place. ...