Power Steering Fluid
Specified fluid: Honda Power Steering Fluid
We recommend that you check the power steering fluid level every time you refuel. Check when the engine is not running.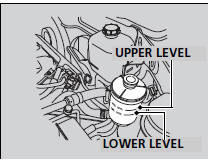 1. Look at the side of the reservoir. The fluid should be between the UPPER LEVEL and LOWER LEVEL.
2. Add power steering fluid if necessary to the UPPER LEVEL mark.
- Inspect the system for a leak. If the fluid level goes below the LOWER LEVEL frequently, have the system inspected as soon as possible.
Brake Fluid
NOTICE
Brake fluid marked DOT 5 is not compatible with your vehicle's braking system and can cause extensive damage. If the specified brake fluid is not available, you should use only DOT 3 or DOT 4 fluid from a sealed container as a temporary replacement. Using any non-Honda brake fluid can cause corrosion and decrease the longevity of the system. Have the brake system flushed and refilled with Honda Heavy Duty Brake Fluid DOT 3 as soon as possible. If the brake fluid level is at or below the MIN mark, have a dealer inspect for leaks or worn brake pads as soon as possible.
Power Steering Fluid
NOTICE
Turning the steering wheel to full left or right lock and holding it there can damage the power steering pump.
NOTICE
Pour the fluid slowly and carefully so you do not spill any. Clean up any spills immediately; it could damage components in the engine compartment.
See also:
Safety of Infants and Small Children
An infant must be properly restrained in a rear-facing, reclining child seat until the infant reaches the seat maker's weight or height limit for the seat, and the infant is at least one year ...
Childproof Door Locks
The childproof door locks prevent the rear doors from being opened from the inside regardless of the position of the lock tab. Setting the Childproof Door Locks Slide the lever in the rear door to ...
Auto Door Locking/Unlocking
Your vehicle locks all doors and unlocks the driver's door automatically when a certain condition is met. Models with audio/information screen You can turn off or change to another auto door l ...