Refilling Window Washer Fluid
Models without washer level sensor
Check the amount of window washer fluid.
If the level is low, fill the washer reservoir.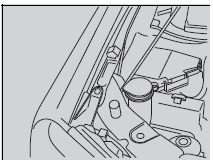 Models with washer level sensor
If the washer fluid is low, the washer level indicator appears on the instrument panel or a message appears on the multi-information display. Pour the washer fluid carefully. Do not overflow the reservoir.
Refilling Window Washer Fluid
NOTICE
Do not use engine antifreeze or a vinegar/water solution in the windshield washer reservoir. Antifreeze can damage your vehicle's paint. A vinegar/water solution can damage the windshield washer pump.
See also:
How to Refuel
1. Stop your vehicle with the service station pump on the left side of the vehicle in the rear. 2. Turn off the engine. 3. Unlock the driver's door using the lock tab or the master door lock ...
Your Vehicle's Safety Features
(1) Safety Cage (2) Crush Zones (3) Seats and Seat-Backs (4) Head Restraints (5) Collapsible Steering Column (6) Seat Belts (7) Front Airbags (8) Side Airbags (9) Side Curtain Airbags (10) ...
Audio System Theft Protection
The audio system is disabled when it is disconnected from the power source, such as when the battery is disconnected or goes dead. ■ Reactivating the audio system Audio system without touch ...