Remote Control and Wireless Headphone Care*
Models with rear entertainment system
Replacing the Battery
Remote Control
If it takes several pushes on the remote control buttons to operate the rear entertainment system.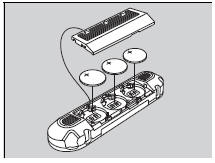 Battery type: BR3032
1. Remove the cover.
2. Make sure to replace the battery with the correct polarity.
Replacing the Battery
NOTICE
An improperly disposed of battery can damage the environment. Always confirm local regulations for battery disposal. Replacement batteries are commercially available or at a dealer.
Wireless Headphone
If there is no sound coming from the wireless headphone, replace the battery.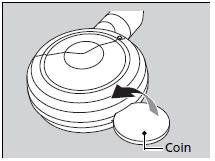 Battery type: AAA
1. To open the cover, insert a coin in the slot and twist it slightly to pry the cover away from the earpiece.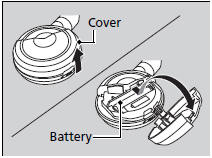 2. Make sure to replace the battery with the correct polarity.
See also:
When Stopped
1. Depress the brake pedal firmly with the shift lever in . 2. Firmly apply the parking brake. 3. Move the shift lever from to . 4. Turn off the engine. Always set the parking brake firmly, in ...
Power Door Mirrors
With the ignition switch in ON , move the selector switch to L or R. Push the appropriate edge of the adjustment switch to adjust the mirror. Place the selector switch in the L or R position to use ...
DOT Tire Quality Grading (U.S. Vehicles)
The tires on your vehicle meet all U.S. Federal Safety Requirements. All tires are also graded for treadwear, traction, and temperature performance according to Department of Transportation (DOT) s ...