Compass Calibration
If the compass indicates the wrong direction, or the CAL indicator blinks, you need to manually calibrate the system.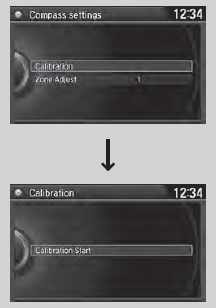 1. Turn the ignition switch to ON

.
2. On the top screen of any audio source, press and hold

for 5 seconds.
- The display switches to the Compass Settings screen.
3. Rotate

to select Calibration, then press

.
4. When the display changes to Calibration Start, press

.
5. Drive the vehicle slowly in two circles.
- The compass starts to show a direction after the calibration. The CAL indicator goes off.
Calibrate the compass in an open area.
While setting the compass, press the BACK button to cancel the setting mode and return to the previous screen.
See also:
If the Brake System Indicator (Red) Comes On
Reasons for the indicator to come on - The brake fluid is low. - There is a malfunction in the brake system. What to do when the indicator comes on while driving Press the brake pe ...
Brightness Control
When the ignition switch is in ON , you can use the brightness control knob to adjust instrument panel brightness. Brighten: Turn the knob to the right. Dim: Turn the knob to the left. You will ...
Towing Preparation
■Towing Load Limits Your vehicle can tow a trailer if you carefully observe the load limits, use the proper equipment, and follow the towing guidelines. Check the load limits before drivin ...