Power Steering Fluid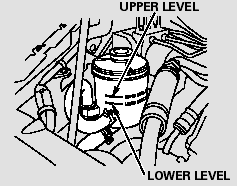 Check the level on the side of the reservoir when the engine is cold.
The fluid should be between the UPPER LEVEL and LOWER LEVEL.
If not, add power steering fluid to the UPPER LEVEL.
Pour the fluid slowly and carefully so you do not spill any. Clean up any spills immediately; it could damage components in the engine compartment.
Always use Honda Power Steering Fluid. You may use another power steering fluid as an emergency replacement, but have the power steering system flushed and refilled with Honda PSF as soon as possible.
A low power steering fluid level can indicate a leak in the system. Check the fluid level frequently, and have the system inspected as soon as possible.

Turning the steering wheel to f ull lef t or right lock and holding it there can damage the power steering pump.
See also:
Engine Coolant
Specified coolant: Honda Long Life Antifreeze/Coolant Type 2 This coolant is premixed with 50% antifreeze and 50% water. Do not add any straight antifreeze or water. We recommend you check the en ...
Fog Lights
When the low beam headlights are on, turn the fog light switch on to use the fog lights. When the fog lights are on, the indicator in the instrument panel will be on. They go off when the head ...
Starting the Engine
1. Apply the parking brake. 2. In cold weather, turn off all electrical accessories to reduce the drain on the battery. 3. Make sure the shift lever is in Park. Press on the brake pedal. 4. Witho ...