ThreeWay Catalytic Converter
The three way catalytic converter contains precious metals that serve as catalysts, promoting chemical reactions to convert the exhaust gasses without affecting the metals.
The catalytic converter is referred to as a three-way catalyst, since it acts on HC, CO, and NOx. A replacement unit must be an original Honda part or its equivalent.
The three way catalytic converter must operate at a high temperature for the chemical reactions to take place. It can set on fire any combustible materials that come near it. Park your vehicle away from high grass, dry leaves, or other flammables.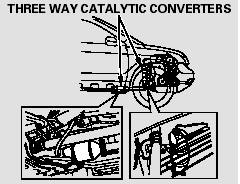 A defective three way catalytic converter contributes to air pollution, and can impair your engine's performance.
Follow these guidelines to protect your vehicle's three way catalytic converter.
Always use unleaded gasoline.
Even a small amount of leaded gasoline can contaminate the catalyst metals, making the three way catalytic converter ineffective.
Keep the engine well maintained.
Have your vehicle diagnosed and repaired if it is misfiring, backfiring, stalling, or otherwise not running properly.
See also:
Recalling the Stored Position
1.Move the shift lever to . 2. Apply the parking brake. 3. Press a memory button ( or ) . You will hear a beep, and the indicator light will blink. The seat and the door mirrors will automatic ...
Steering Wheel Adjustment
Make any steering wheel adjustment before you start driving. Adjusting the steering wheel position while driving may cause you to lose control of the vehicle and be seriously injured in a crash. ...
Brake Fluid
Specified fluid: Honda Heavy Duty Brake Fluid DOT 3 Checking the Brake Fluid The fluid level should be between the MIN and MAX marks on the side of the reservoir. ...