Power Door Mirrors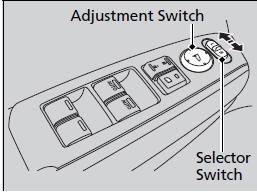 You can adjust the door mirrors when the ignition switch is in ON

.
■ Mirror position adjustment
L/R selector switch: Select the left or right mirror. After adjusting the mirror, return the switch to the center position.
Mirror position adjustment switch: Press the switch left, right, up, or down to move the mirror.
■Reverse Tilt Door Mirror*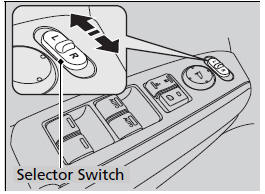 If activated, either side door mirror automatically tilts downward when you put the shift lever in

; this improves close-in visibility on the selected side of the vehicle when reversing. The mirror automatically returns to its original position when you shift out of

.
To activate this feature, turn the ignition switch to ON

, and slide the selector switch to the left or right side.
■Expanded View Driver's Mirror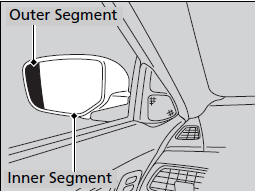 The driver side door mirror has outer and inner segments.
The outer segment is slightly curved to provide a wider angle view than a standard flat mirror.
This wider view may help you check areas that are not visible using a standard door mirror.
Objects visible in the outer segment of the driver side door mirror appears smaller than objects in the rest of the mirror. But in fact, they are closer than they appear.
Do not rely on your mirrors. Always look to the side and behind your vehicle before changing lanes.
See also:
Parking Sensor System
The corner and rear center sensors monitor obstacles around your vehicle, and the beeper and display let you know the approximate distance between your vehicle and the obstacle. The sensor location ...
Cruise Control
• Cruise control allows you to maintain a set speed without keeping your foot on the accelerator pedal. • To use cruise control, press the CRUISE button, then press DECEL/SET button once you h ...
Immobilizer System
The immobilizer system prevents a key that has not been pre-registered from starting the engine. Each key contains electronic transmitters that use electronic signals to verify the key. Pay att ...