USB Adapter Cable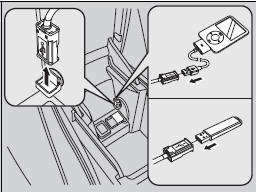 1. Unclip the USB connector and loosen the adapter cable.
2. Install the iPod® dock connector or the USB flash drive to the USB connector.
• Do not leave the iPod® or USB flash drive in the vehicle. Direct sunlight and high temperatures may damage it.
• Do not use an extension cable with the USB adapter cable.
• Do not connect the iPod® or USB flash drive using a hub.
• Do not use a device such as a card reader or hard disk drive, as the device or your files may be damaged.
• We recommend backing up your data before using the device in your vehicle.
• Displayed messages may vary depending on the device model and software version.
If the audio system does not recognize the iPod®, try reconnecting it a few times or reboot the device. To reboot, follow the manufacturer's instructions provided with the iPod® or visit www.apple.com/ ipod.
See also:
Compatible iPod® and USB Flash Drives
iPod® Model Compatibility iPod® Model Compatibility This system may not work with all software versions of these devices. USB Flash Drives Use a recommended USB flash drive of 256 MB or higher ...
Adjusting the Sound
Press the MENU button, and rotate to adjust the setting, then press . Rotate to scroll through the following choices: When the adjustment level reaches the center, you will s ...
A FewWordsAbout Safety
Your safety, and the safety of others, is very important. And operating this vehicle safely is an important responsibility. To help you make informed decisions about safety, we have provided operat ...