Audio with Touch Screen
Use the touch screen to operate the audio system.
Icons that appear on the screen vary by the source selected.
Select

to go back to the previous screen.
Use the

/

/

/

icons to turn the page.
■Selecting an Audio Source

Select Source, then select an icon on the source list to switch the audio source.
■Displaying the Menu Items

Select More to display the menu items.
■Adjusting the Sound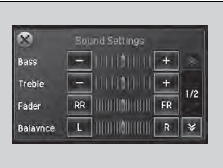 1. Select More, then Sound Settings.
2. Use +, - or others to adjust the setting.
Select Off, Low, Mid or High for the SVC setting.
■Changing the Screen Settings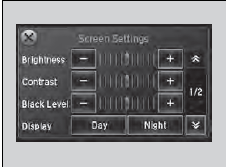 1. Select More, then Screen Settings.
2. Use +, - or others to adjust the setting.
The followings are adjustable screen settings:
• Brightness
• Contrast
• Black Level
• Display
Changes between the daytime or nighttime modes.
• Beep
Mutes a beep that sounds every time you touch the screen.
• Fade Timer
Sets the screen black out timing.
See also:
Safety When Performing Maintenance
Some of the most important safety precautions are given here. However, we cannot warn you of every conceivable hazard that can arise in performing maintenance. Only you can decide whether or not y ...
Devices that Emit Radio Waves
The following products and systems on your vehicle emit radio waves when in operation. Each of the above complies with the appropriate requirements or the required standards of FCC (Federal Commun ...
Security System Alarm
The security system alarm activates when the doors, tailgate, glass hatch, or hood is opened without the key, or remote transmitter. When the security system alarm activates The horn sounds intermi ...