Shift Lever Does Not Move
Follow the procedure below if you cannot move the shift lever out of the (P position.
■Releasing the Lock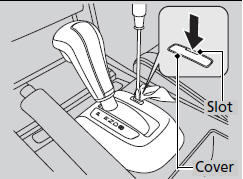 1. Set the parking brake.
Models without smart entry system
2. Remove the key from the ignition switch.
Models with smart entry system
2. Remove the built-in key from the smart entry remote.
All models
3. Wrap a cloth around the tip of a small flattip screwdriver. Put it into the shift lock release slot as shown in the image, and remove the cover.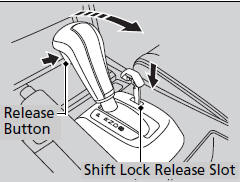 4. Insert the key into the shift lock release slot.
5. While pushing the key down, press the shift lever release button and place the shift lever into

.
-The lock is now released. Have the shift lever checked by a dealer as soon as possible.
See also:
Automatic Transmission Fluid
Check the fluid level with the engine at normal operating temperature. 1. Park the vehicle on level ground. Start the engine, let it run until the radiator fan comes on, then shut off the engine ...
AhaTM
If an error occurs while playing AhaTM, you may see the following error messages. If you cannot clear the error message, contact a dealer. ...
Automatic Transmission
● Shift to and depress the brake pedal when starting the engine. Shifting Models without paddle shifter Models with paddle shifter Depress the brake pedal and press the release but ...