Compass Calibration
If the compass indicates the wrong direction, or the CAL indicator blinks, you need to manually calibrate the system.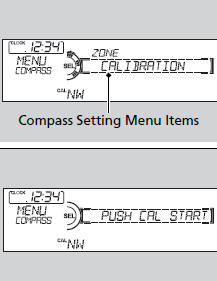 1. Turn the ignition switch to ON

.
2. Press and hold the MENU button until the display shows the compass setting menu list.
3. Rotate

to select CALIBRATION, then press

.
4. When the display changes to PUSH CAL START, press

.
5. Drive the vehicle slowly in two circles.
-The compass starts to show a direction after the calibration. The CAL indicator goes off.
Calibrate the compass in an open area.
While setting the compass:
• The RETURN button returns to the previous screen.
• The MENU button cancels the setting mode.
These indications are used to show how to operate the selector knob.
Rotate

to select.
Press

to enter.
See also:
Precautions for Opening/Closing the Tailgate
Always make sure individuals and objects are clear of the tailgate before opening or closing it. ■ Opening the tailgate • Open the tailgate all the way. - If it is not fully opened, the ...
Maximum Load Limit.
The maximum load for your vehicle is 1,340 lbs (608 kg). See Tire and Loading Information label attached to the driver's doorjamb. This figure includes the total weight of all occupants, cargo ...
Tools
Types of Tools The tools were stored in the cargo area. ...