Compass Calibration
If the compass indicates the wrong direction, or the CAL indicator blinks, you need to manually calibrate the system.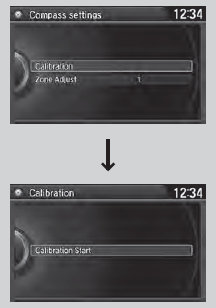 1. Turn the ignition switch to ON

.
2. On the top screen of any audio source, press and hold

for 5 seconds.
- The display switches to the Compass Settings screen.
3. Rotate

to select Calibration, then press

.
4. When the display changes to Calibration Start, press

.
5. Drive the vehicle slowly in two circles.
- The compass starts to show a direction after the calibration. The CAL indicator goes off.
Calibrate the compass in an open area.
While setting the compass, press the BACK button to cancel the setting mode and return to the previous screen.
See also:
Dual Temperature Control
EX-L model only The temperatures of the driver's side and the front passenger's side can be controlled independently when the indicator in the DUAL button is on. To adjust the driver's sid ...
DOT Tire Quality Grading (U.S. Vehicles)
The tires on your vehicle meet all U.S. Federal Safety Requirements. All tires are also graded for treadwear, traction, and temperature performance according to Department of Transportation (DOT) s ...
Checking the Battery
Check the battery condition monthly. Look at the test indicator window and check the terminals for corrosion. If your vehicle's battery is disconnected or goes dead: • The audio system is di ...