Ignition Switch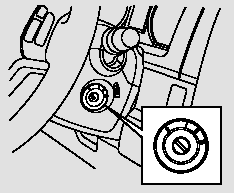 The ignition switch has four positions: LOCK (0), ACCESSORY (I), ON (II), and START (III).
LOCK (0) - You can insert or remove the key only in this position.
To turn the key, the shift lever must be in Park, and you must push the key in slightly.
If the front wheels are turned, the anti-theft lock may make it difficult to turn the key. Firmly turn the steering wheel to the left or right as you turn the key.
ACCESSORY (I) - You can operate the audio system and the accessory power sockets in this position.
ON (II) - This is the normal key position when driving. Several of the indicators on the instrument panel come on as a test when you turn the ignition switch from the ACCESSORY (I) to the ON (II) position.
START (III) - Use this position only to start the engine. The switch returns to the ON (II) position when you let go of the key.
You will hear a reminder beeper if you leave the key in the LOCK (0) or the ACCESSORY (I) position and open the driver's door. Remove the key to turn off the beeper.
The shift lever must be in Park before you can remove the key from the ignition switch.
See also:
DOT Tire Quality Grading (U.S. Vehicles)
The tires on your vehicle meet all U.S. Federal Safety Requirements. All tires are also graded for treadwear, traction, and temperature performance according to Department of Transportation (DOT) s ...
Display Setup
You can change the brightness or color theme of the audio/information screen. ■Changing the Screen Brightness 1. Press the DISP button to go to the Settings screen. 2. Rotate to select Sy ...
Starting the Engine
Models without smart entry system 1. Make sure the parking brake is applied. 2. Check that the shift lever is in , then depress the brake pedal. - Although it is possible to start the vehicle ...