Refilling Window Washer Fluid
Check the amount of window washer fluid using the washer fluid level gauge on the cap.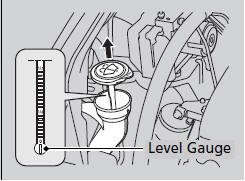 If the level is low, fill the washer reservoir.
Canadian models
If the washer fluid is low, the washer level indicator comes on.
Pour the washer fluid carefully. Do not overflow the reservoir.
NOTICE
Do not use engine antifreeze or a vinegar/water solution in the windshield washer reservoir.
Antifreeze can damage your vehicle's paint. A vinegar/water solution can damage the windshield washer pump.
See also:
Safety When Performing Maintenance
Some of the most important safety precautions are given here. However, we cannot warn you of every conceivable hazard that can arise in performing maintenance. Only you can decide whether or not y ...
Audio Remote Controls
● + / - Button Press and release to adjust the volume up/ down. ● SOURCE Button Press and release to change the audio mode: FM/AM/CD/XM®*/HDD*/USB/iPod®/ Bluetooth/Pandora®*/A ...
Automatic Seat Belt Tensioners
The front seats are equipped with automatic seat belt tensioners to enhance safety. The tensioners automatically tighten the front seat belts during a moderate-tosevere frontal collision, sometimes ...