Maintenance
Under the Hood
• Check engine oil, engine coolant, and windshield washer fluid. Add when necessary. • Check brake fluid.
• Check the battery condition monthly.
1. Pull the hood release handle under the corner of the dashboard.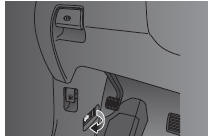 2. Locate the hood latch lever, pull the lever up, and lift up the hood.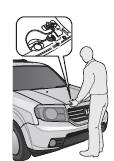 3. When finished, close the hood and make sure it is firmly locked in place.
Wiper Blades
• Replace blades if they leave streaks across the windshield.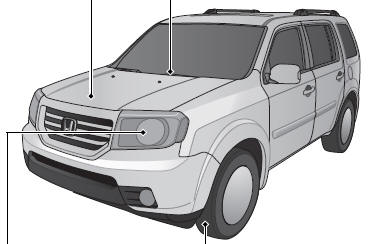 Lights
• Inspect all lights regularly.
Tires
• Inspect tires and wheels regularly.
• Check tire pressures regularly.
• Install snow tires for winter driving.
See also:
Inspecting and Changing Fuses
1. Turn the ignition switch to LOCK . Turn headlights and all accessories off. 2. Remove the fuse box cover. 3. Check the large fuse in the engine compartment. - If the fuse is blown, u ...
If the Brake System Indicator (Red) Comes On
Reasons for the indicator to come on - The brake fluid is low. - There is a malfunction in the brake system. What to do when the indicator comes on while driving Press the brake pe ...
Playing AM/FM Radio
You can control the AM/FM radio using voice commands. The ST indicator appears on the display indicating stereo FM broadcasts. Stereo reproduction in AM is not available. Switching the Audi ...