Your Vehicle's Safety Features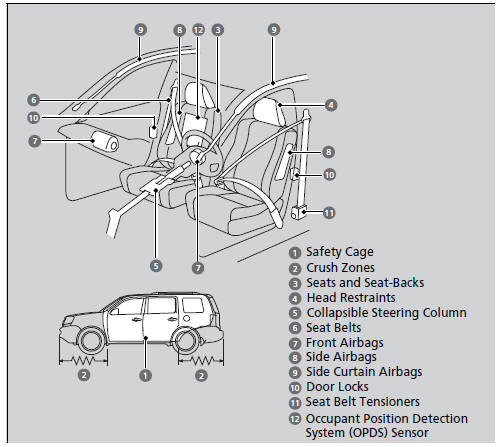 The following checklist will help you take an active role in protecting yourself and your passengers.
Your Vehicle's Safety Features
Your vehicle is equipped with many features that work together to help protect you and your passengers during a crash. Some features do not require any action on your part. These include a strong steel framework that forms a safety cage around the passenger compartment, front and rear crush zones, a collapsible steering column, and tensioners that tighten the front seat belts in a sufficient crash. However, you and your passengers cannot take full advantage of these features unless you remain seated in the correct position and always wear your seat belts. In fact, some safety features can contribute to injuries if they are not used properly.
See also:
Identification Numbers
Your vehicle has several identifying numbers located in various places. The vehicle identification number (VIN) is the 17-digit number your dealer uses to register your vehicle for warranty purpo ...
Tire and Wheel Replacement
Replace your tires with radials of the same size, load range, speed rating, and maximum cold tire pressure rating (as shown on the tire's sidewall). Using tires of a different size or construction ...
Authorized Manuals
■ Service Express For electronic copies of service publications, you can purchase a subscription to Service Express. Visit www.techinfo.honda.com for pricing and options. ■ For U.S. O ...