Automatic Lighting Off Feature
The headlights, all other exterior lights, and the instrument panel lights turn off within 15 seconds after you remove the key and close the driver's door.
You can change the headlight auto off timer setting.
If you turn the ignition switch to LOCK

with the headlight switch on, but do not open the door, the lights turn off after 10 minutes (three minutes, if the switch is in the AUTO position).
The lights turn on again when you unlock or open the driver's door. If you unlock the door, but do not open it within 15 seconds, the lights go off. If you open the driver's door, you will hear a lights on reminder chime.
Automatic Lighting Control
We recommend that you turn on the lights manually when driving at night, in a dense fog, or in dark areas such as long tunnels or parking facilities. The light sensor is in the location shown below. Do not cover this light sensor with anything; otherwise, the automatic lighting system may not work properly.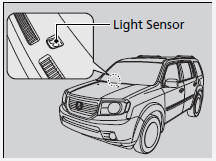 Adjust the auto light sensitivity as follows: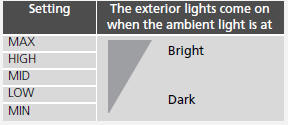 See also:
Safe Driving
...
If the Engine Overheats
The reading of the vehicle's temperature gauge should stay in the midrange. If it climbs to the red mark, you should determine the reason (hot day, driving up a steep hill, etc.). If the vehicl ...
Auto Door Locking/Unlocking
Your vehicle locks all doors and unlocks the driver's door automatically when a certain condition is met. Models with audio/information screen You can turn off or change to another auto door l ...