Seat Belt Reminder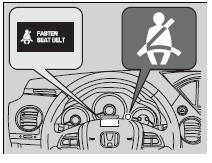 Your vehicle monitors front seat belt use. If the ignition switch is turned to ON

before the driver's seat belt is fastened, a beeper will sound and the indicator will blink. If the driver does not fasten the belt before the beeper stops, the indicator will remain on. The beeper will also periodically sound and the indicator will blink while driving until the driver's and front passenger's seat belts are fastened.
About Your Seat Belts
If a rear seat passenger moves around and extends the seat belt, the lockable retractor may activate. If this happens, release the retractor by unfastening the seat belt and allow the belt to retract completely. Then refasten the belt.
Seat Belt Reminder
The indicator will also come on if a front passenger does not fasten their seat belt within 6 seconds after the ignition switch is turned to ON

.
When no one is sitting in the front passenger's seat, or a child or small adult is riding there, the indicator will not come on. This is because the weight sensors in the seat cannot detect their presence.
See also:
Introduction
Congratulations! Your selection of a 2010 Honda CR-V was a wise investment. It will give you years of driving pleasure. One of the best ways to enhance the enjoyment of your new vehicle is to read ...
Tire and Loading Information Label
The label attached to the driver's doorjamb provides necessary tire and loading information. The tire and loading information label attached to the driver's doorjamb contains: 1 The number ...
Recalling the Stored Position
1.Move the shift lever to . 2. Apply the parking brake. 3. Press a memory button ( or ) . You will hear a beep, and the indicator light will blink. The seat and the door mirrors will automatic ...