Advice for Pregnant Women
If you are pregnant, the best way to protect yourself and your unborn child when driving or riding in a vehicle is to always wear a seat belt and keep the lap part of the belt as low as possible across the hips.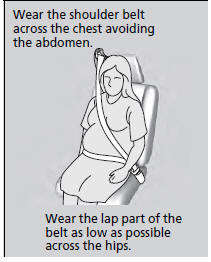 Advice for Pregnant Women
Each time you have a checkup, ask your doctor if it is okay for you to drive. To reduce the risk of injuries to both you and your unborn child that can be caused by an inflating front airbag:
• When driving, sit upright and adjust the seat as far back as possible while allowing full control of the vehicle.
• When sitting in the front passenger's seat, adjust the seat as far back as possible.
See also:
Overheating
How to Handle Overheating Overheating symptoms are as follows: - The temperature gauge needle is at the mark or the engine suddenly loses power. - Steam or spray comes out of the engi ...
Important Handling Information
Your vehicle has higher ground clearance than a passenger vehicle designed for use only on pavement. Higher ground clearance has many advantages for off-highway driving. It allows you to travel over ...
Emissions Testing
Testing of Readiness Codes Your vehicle uses "readiness codes," as part of its onboard self diagnostic system. Some states refer to these codes during testing to see if your vehicle's em ...