Fastening a Seat Belt
After adjusting a front seat to the proper position, and while sitting upright and well back in the seat: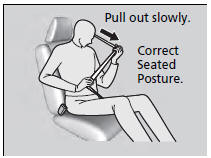 1.Pull the seat belt out slowly.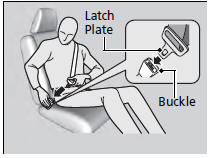 2.Insert the latch plate into the buckle, then tug on the belt to make sure the buckle is secure.
Make sure that the belt is not twisted or caught on anything.
Fastening a Seat Belt
No one should sit in a seat with an inoperative seat belt or one that does not appear to be working correctly. Using a seat belt that is not working properly may not protect the occupant in a crash. Have a dealer check the belt as soon as possible.
Never insert any foreign objects into the buckle or retractor mechanism.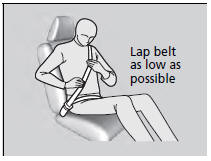 3.Position the lap part of the belt as low as possible across your hips, then pull up on the shoulder part of the belt so the lap part fits snugly. This lets your strong pelvic bones take the force of a crash and reduces the chance of internal injuries.
4.If necessary, pull up on the belt again to remove any slack, then check that the belt rests across the center of your chest and over your shoulder. This spreads the forces of a crash over the strongest bones in your upper body.
See also:
Automatic Lighting Off Feature
The headlights, all other exterior lights, and the instrument panel lights turn off within 15 seconds after you remove the key and close the driver's door. You can change the headlight auto off ...
Playing Internet Radio
Connect a compatible phone through Bluetooth®. iPhone You can also connect the phone using your dock connector to the USB adapter cable. Make sure the audio setting is correct for the connecti ...
Engine Coolant
Specified coolant: Honda Long Life Antifreeze/Coolant Type 2 This coolant is premixed with 50% antifreeze and 50% water. Do not add any straight antifreeze or water. We recommend you check the en ...