Setting the Clock
Models with audio/information screen
You can adjust the time in the clock display, using the CLOCK button with the ignition switch in ON

.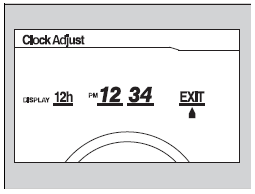 1.Press the CLOCK button to access the clock adjustment mode screen.
2.Press

to select the item you want to adjust (12/24 hour mode, hour, minute).
3.Rotate

to make the adjustment.
4.Press

to enter your selection. Repeat steps 2 to 4 to adjust other items.
5.To enter the selection, press

and select EXIT, then press

.
Clock
These indications are used to show how to operate the selector knob.
Rotate

to select.
Press

to enter.
You can also press the SETUP button to access the clock adjustment mode screen.
1. Press the SETUP button.
2. Rotate

to select CLOCK ADJUST on the screen.
3. Press

CLOCK ADJUST appears.
Models with navigation system
The clock is automatically updated through the navigation system, so the time does not need to be adjusted.
See also:
Gracenote® End User License Agreement
This application or device contains software from Gracenote, Inc. of Emeryville, California ("Gracenote"). The software from Gracenote (the "Gracenote Software") enables this application to ...
Deleting all HDD Data
Reset all the menu and customized settings, and delete all music data on the HDD. 1. Turn on the audio system and select the HDD mode. 2. Press the SETTINGS button. 3. Rotate to select Audio ...
Safety Checklist
For the safety of you and your passengers, make a habit of checking these items each time before you drive. • After everyone has entered the vehicle, be sure all doors and the tailgate are close ...