Storing a Position in Memory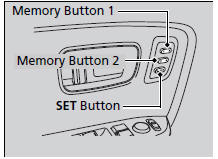 1. Turn the ignition switch to ON

. Adjust the driver's seat and the door mirrors to the desired position.
2. Press the SET button.
You will hear a beep, and the memory button indicator light will blink.
3.Press and hold memory button

or

within five seconds of pressing the SET button.
Once the seat and the door mirror positions have been memorized, the indicator light on the button you pressed stays on.
Storing a Position in Memory
After you press the SET button, the storing operation will be canceled when: • You do not press the memory button within five seconds.
• You readjust the seat position before the doublebeep.
• You readjust the door mirrors.
• You turn the ignition switch to any position except ON

.
See also:
Resetting the Display
Reset the engine oil life display if you have performed the maintenance service. 1. Turn the ignition switch to ON . 2. Display the engine oil life by repeatedly pressing the SEL/RESET button. ...
Safety When Performing Maintenance
Some of the most important safety precautions are given here. However, we cannot warn you of every conceivable hazard that can arise in performing maintenance. Only you can decide whether or not you ...
Turn Signals
The turn signals can be used when the ignition switch is in ON . ■ One-touch turn signal When you lightly push up or down and release the turn signal lever, the exterior turn signals and ...