Audio Remote Controls
Allows you to operate the audio system while driving.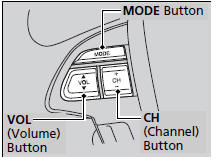 MODE Button
Cycles through the audio modes as follows:
FM1→FM2→AM→XM1→XM2→CD→ HDD→AUX
VOL Button
Press

: Increases the volume.
Press

: Decreases the volume.
CH Button
When listening to the radio
Press

: Selects the next preset radio station.
Press

: Selects the previous preset radio station. Press and hold

: Selects the next strong station. Press and hold

: Selects the previous strong station.
When listening to a CD, HDD, iPod® or USB flash drive
Press

: Skips to the next song. Press

: Goes back to the beginning of the current or previous song.
When listening to a CD or HDD
Press and hold

: Skips to the next folder/album. Press and hold

: Goes back to the previous folder/album.
Audio Remote Controls
The CD mode appears only when a CD is loaded.
When in AUX mode, the following are operable from the remote controls:
iPod®/USB flash drive connected to the USB adapter cable
Bluetooth® Audio (with some phones only)
Adjusting the Sound
Press the AUDIO button, and move

to select AUDIO MENU. Rotate

to select Sound Setup, then press

. Rotate

to scroll through the following choices: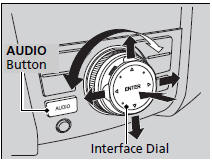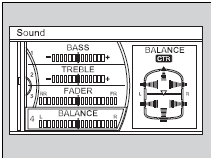 Center
Dolby ProLogic II
Speed-sensitive Volume Compensation
Adjusting the Sound
The SVC has four modes: OFF, LOW, MID, and HIGH. SVC adjusts the volume level based on the vehicle speed. As you go faster, audio volume increases. As you slow down, audio volume decreases.
Dolby PL II signal processing creates multi-channel surround sound from 2-channel stereo audio sources. Dolby ProLogic II is available only in DISC (CD-DA, MP3, WMA, AAC), XMr Radio, AUX (USB, iPodr, AUX, Bluetoothr Audio), and HDD modes.
Manufactured under license from Dolby Laboratories. Dolby, ProLogic, MLP Lossless, and the double-D symbol are trademarks of Dolby Laboratories.
See also:
Refilling Window Washer Fluid
Models without washer level sensor Check the amount of window washer fluid. If the level is low, fill the washer reservoir. Models with washer level sensor If the washer fluid is low, the washer ...
Driving Safely with a Trailer
Parking In addition to the normal precautions, place wheel chocks at each of the trailer's tires. ■Things You Need To Know Before Towing a Trailer • Have the trailer properly serviced an ...
Gauges.
Gauges include the speedometer, tachometer, fuel gauge, and related indicators. They are displayed when the ignition switch is in ON Speedometer Displays your driving speed in mph (U.S.) or km/h ...