Adding Engine Oil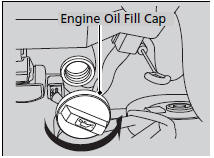 1. Unscrew and remove the engine oil fill cap.
2. Add oil slowly.
3. Reinstall the engine oil fill cap, and tighten it securely.
4. Wait for three minutes and recheck the engine oil dipstick.
Adding Engine Oil
If any oil spills, wipe it up immediately. Spilled oil may damage the engine compartment components.
NOTICE
Do not fill the engine oil above the upper mark. Overfilling the engine oil can result in leaks and engine damage.
See also:
Overview of Contents
Contents A convenient reference to the sections in this manual. Your Vehicle at a Glance A quick reference to the main controls in your vehicle. Driver and Passenger Safety Important information ...
Replacing the Transmitter Battery
If it takes several pushes on the button to lock or unlock the doors and the tailgate, replace the battery as soon as possible. Battery type: CR1616 To replace the battery: 1. Remove the screw ...
Tools
Types of Tools The tools were stored in the cargo area. ...