Fog Light Bulbs
When replacing, use the following bulbs.
Fog Light: 55 W (H11)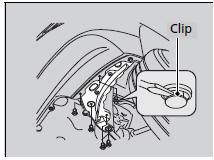 1. Remove the clips using a flat-tip screwdriver, and pull down the under cover.
Fog Light Bulbs
NOTICE
Halogen bulbs get very hot when lit. Oil, perspiration, or a scratch on the glass can cause the bulb to overheat and shatter. The fog lights are halogen bulbs. When replacing a bulb, handle it by its plastic case, and protect the glass from contact with your skin or hard objects. If you touch the glass, clean it with denatured alcohol and a clean cloth.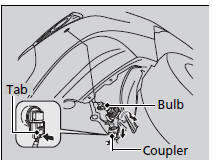 2. Push the tab to remove the coupler.
3. Rotate the old bulb to the left to remove.
4. Insert new bulb.
Fog Light Bulbs
Insert a flat-tip screwdriver, lift and remove the center pin to remove the clip.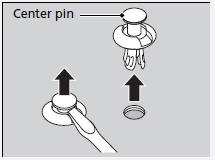 Insert the clip with the center pin raised, and push until it is flat.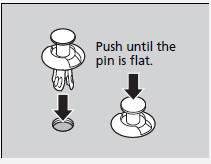 Side Turn Signal/Emergency Indicator Light Bulbs
Door mirrors have the side turn lights. Have an authorized Honda dealer inspect and replace the light bulbs.
See also:
Parking Brake
Use the parking brake to keep the vehicle stationary when parking. To apply: Depress the parking brake pedal down with your foot. To release: 1. Depress the brake pedal. 2. Pull the release h ...
Seat Belt Inspection
Regularly check the condition of your seat belts as follows: • Pull each belt out fully, and look for frays, cuts, burns, and wear. • Check that the latches work smoothly and the belts retract ...
Rear Climate Control System
Using the Rear Climate Control System From the Front Panel Use the system when the engine is running. 1. Press the REARLOCK button. LOCK appears on the front control panel. The rear system change ...