Engine Does Not Start
Checking the Engine
If the engine does not start, check the starter.
Checking the Engine
If you must start the vehicle immediately, use an assisting vehicle to jump start it.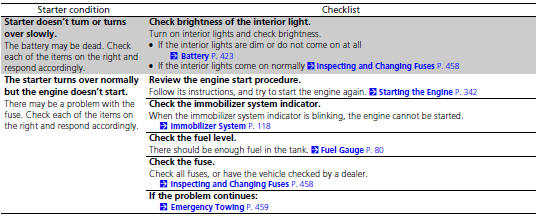 See also:
Refilling Window Washer Fluid
Models without washer level sensor Check the amount of window washer fluid. If the level is low, fill the washer reservoir. Models with washer level sensor If the washer fluid is low, the washer ...
Protecting Larger Children
When a child reaches the recommended weight or height limit for a forward-facing child seat, the child should sit in a back seat on a booster seat and wear the lap/ shoulder belt. The following p ...
Protecting Infants and Small Children
Protecting Infants Child Seat Type An infant must be properly restrained in a rear-facing, reclining child seat until the child reaches the seat maker's weight or height limit for the seat, an ...