Using the Tailgate Release Button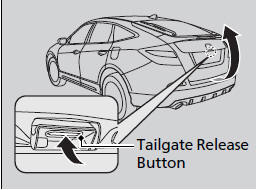 When all the doors are unlocked, the tailgate is unlocked. Press the tailgate release button and lift open the tailgate.
Models with smart entry system
Even if the tailgate is locked, you can open the tailgate if you carry the smart entry remote.
To close the tailgate, grab the inner handle, pull the tailgate down, and push it closed from outside.
Models with smart entry system
• Do not leave the smart entry remote in the vehicle when you get out. Carry it with you.
• A person who is not carrying the smart entry remote can unlock the tailgate if a person who is carrying it is within range.
• Do not leave the smart entry remote inside the cargo area and close the tailgate. The beeper sounds and the tailgate cannot be closed.
See also:
Using the Lock Tab
Locking a door Pull the lock tab. Unlocking a door Push the lock tab in. Using the Lock Tab When you lock/unlock either front door using the master door lock switch, tailgate, glass hatch, and ...
Handling the Unexpected
Flat Tire ● Park in a safe location and replace the flat tire with the compact spare tire in the cargo area. Engine Won't Start ● If the battery is dead, jump start using a boos ...
Carbon Monoxide Hazard
Your vehicle's exhaust contains carbon monoxide gas. Carbon monoxide should not enter the vehicle in normal driving if you maintain your vehicle properly and follow the information on this page. ...