Rear Seats
■Folding Down the Rear Seats
Separately fold down the left and right halves of the rear seat to make room for cargo.
■ To fold down the seat
1. Lower the rear head restraint to its lowest position. Put the armrest back into the seat-back.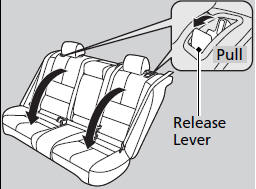 From the rear door side
2. Pull the release lever.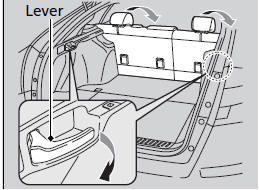 From the cargo area side
2. Pull the release lever.
If the rear head restraints get caught on the front seat-backs, remove the head restraints.
Remove any items from the rear seat cushion before you fold down the rear seat.
When you fold down one side of the rear seats and use the non-recessed part of the cargo area, make sure to secure the cargo. Loose items can fly forward and cause injury if you have to brake hard.
Make sure all items in the cargo area or items extending to the rear seats are properly secured. Loose items can fly forward if you have to brake hard.
Make sure that the folded seat-back does not press against the front passenger seat, as this can cause the weight sensors in the front passenger seat to work improperly.
The front seat(s) must be far enough forward so they do not interfere with the rear seats as they fold down.
■ To return the seat to the original position
Pull up the seat-back in the upright position.
Make sure the seat is latched before driving.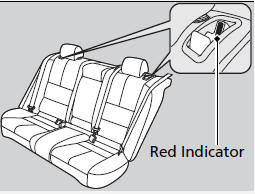 You see the red indicator behind the release lever when the seat-back is latched fully.
To lock the seat-back upright, push it backwards until it locks.
When returning a seat-back to its original position, push it firmly back. Also, make sure all rear shoulder belts are positioned in front of the seat-back, and the center shoulder belt is positioned in the guide.
See also:
Compass Calibration
If the compass indicates the wrong direction, or the CAL indicator blinks, you need to manually calibrate the system. 1. Turn the ignition switch to ON . 2. Press and hold the MENU button unti ...
Using HFL
HFL Buttons (Pick-up) button: Press to go directly to the Phone screen or to answer an incoming call. (Hang-up) button: Press to end a call. (Talk) button: Press to call ...
Playing a CD
Your audio system supports audio CDs, CD-Rs and CD-RWs in either MP3, WMA, or AAC format. With the CD loaded, press the CD button. How to Select a File from a Folder with the Selector Knob (MP3/ ...