Brake/Taillights, Back-Up Light, Rear Turn Signal Light and Rear Side Marker Light Bulbs
When replacing, use the following bulbs.
Brake/Taillight: 21/5 W
Back-Up Light: 21 W
Rear Turn Signal Light: 21 W (Amber)
Rear Side Maker Light: 3 CP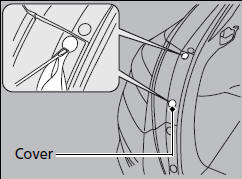 1. Pry on the edge of the cover using a flat-tip screwdriver to remove the covers.
- Wrap the flat-tip screwdriver with a cloth to prevent scratches.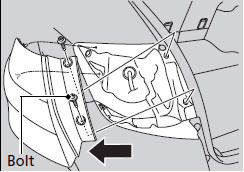 2. Use a Phillip-head screwdriver to remove the bolts.
3. Pull the light assembly out of the rear pillar.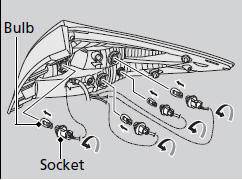 4. Turn the socket to the left and remove it.
Remove the old bulb.
5. Insert a new bulb.
See also:
What to Do If
The ignition switch does not turn from to . Why? • The steering wheel may be locked. • Try to turn the steering wheel left and right while turning the ignition key. The ignition swi ...
If the TPMS Indicator Comes On
■ Reasons for the indicator to come on • Comes on when there is a problem with the TPMS. • If the compact spare is installed, the indicator comes on after driving for a few miles (kilom ...
Emissions Testing
Testing of Readiness Codes Your vehicle uses "readiness codes," as part of its onboard self diagnostic system. Some states refer to these codes during testing to see if your vehicle's emissi ...