Inspecting and Changing Fuses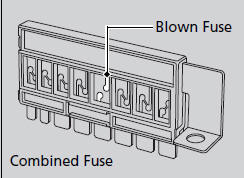 1. Turn the ignition switch to LOCK

. Turn headlights and all accessories off.
2. Remove the fuse box cover.
3. Check the large fuse in the engine compartment.
- If the fuse is blown, use a Phillips-head screwdriver to remove the screw and replace it with a new one.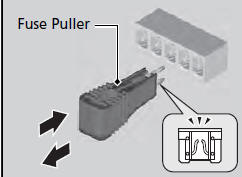 4. Inspect the small fuses in the engine compartment and the vehicle interior.
- If there is a burned out fuse, remove it with the fuse puller and replace it with a new one.
NOTICE
Replacing a fuse with one that has a higher rating greatly increases the chances of damaging the electrical system.
Replace fuse with a spare fuse of the same specified amperage.
Confirm the specified amperage using the charts on P. 538 to 540.
There is a fuse puller on the back of the engine compartment fuse box cover.
See also:
Service Station Procedures
Refueling 1. Park with the driver's side closest to the service station pump. 2. Open the fuel fill door by pulling on the handle located under the lower left corner of the dashboard. 3. Re ...
Fluid Locations
Fluid Locations ...
Vehicle Storage
If you need to park your vehicle for an extended period (more than 1 month), there are several things you should do to prepare it for storage. Proper preparation helps prevent deterioration and mak ...