Adjusting the Shoulder Anchor
The front seats have adjustable shoulder anchors to accommodate taller and shorter occupants.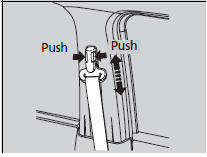 1.Move the anchor up and down while holding the release button.
2.Position the anchor so that the belt rests across the center of your chest and over your shoulder.
Fastening a Seat Belt
WARNING
Improperly positioning the seat belts can cause serious injury or death in a crash. Make sure all seat belts are properly positioned before driving.
To release the belt, push the red PRESS button then guide the belt by hand until it has retracted completely. When exiting the vehicle, be sure the belt is out of the way and will not get caught by closing the door.
Adjusting the Shoulder Anchor
The shoulder anchor height can be adjusted to four levels. If the belt contacts your neck, lower the height one level at a time. After an adjustment, make sure that the shoulder anchor position is secure.
See also:
Tire and Loading Information Label
The label attached to the driver's doorjamb provides necessary tire and loading information. Tire and Loading Information Label The tire and loading information label attached to the driver's ...
Maintenance
This section explains why it is important to keep your vehicle well maintained and how to follow basic maintenance safety precautions. This section also includes instructions on how to read the mai ...
If the Engine Overheats
The reading of the vehicle's temperature gauge should stay in the midrange. If it climbs to the red mark, you should determine the reason (hot day, driving up a steep hill, etc.). If the vehicl ...