Adjusting the Shoulder Anchor
The front seats have adjustable shoulder anchors to accommodate taller and shorter occupants.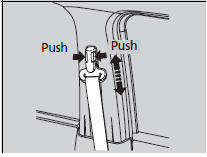 1.Move the anchor up and down while holding the release button.
2.Position the anchor so that the belt rests across the center of your chest and over your shoulder.
Fastening a Seat Belt
WARNING
Improperly positioning the seat belts can cause serious injury or death in a crash. Make sure all seat belts are properly positioned before driving.
To release the belt, push the red PRESS button then guide the belt by hand until it has retracted completely. When exiting the vehicle, be sure the belt is out of the way and will not get caught by closing the door.
Adjusting the Shoulder Anchor
The shoulder anchor height can be adjusted to four levels. If the belt contacts your neck, lower the height one level at a time. After an adjustment, make sure that the shoulder anchor position is secure.
See also:
Playing the XM® Radio
To Play the XM® Radio 1. Press the button. 2.Press the AUDIO button, move to select AUDIO MENU. 3.Rotate to select Mode. Press . 4. Rotate to select CH (channel mode) or CAT ( ...
Warranty Coverages
■ U.S. Owners Your new vehicle is covered by these warranties: New Vehicle Limited Warranty – covers your new vehicle, except for the emissions control systems and accessories, against defe ...
Safe Driving
You can find many safety recommendations throughout this chapter, and throughout this manual. ...