Light Switches
Manual Operation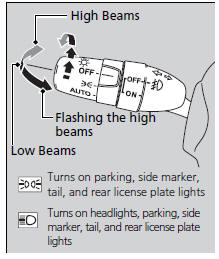 Rotating the light switch turns the lights on and off, regardless of the position of the ignition switch.
High beams
Push the lever forward until you hear a click.
Low beams
When in high beams, pull the lever back to return to low beams.
Flashing the high beams
Pull the lever back, and release it.
Light Switches
If you remove the key from the ignition switch while the lights are on, a chime sounds when the driver's door is opened. Do not leave the lights on when the engine is off because it will cause the battery to discharge.
See also:
Handling the Unexpected
This chapter explains how to handle unexpected troubles. ...
Checking the Battery
Check the condition of the battery monthly by looking at the test indicator window. The label on the battery explains the test indicator's colors. The location of the test indicator window vari ...
About Your Seat Belts
Seat belts are the single most effective safety device because they keep you connected to the vehicle so that you can take advantage of many built-in safety features. They also help keep you from be ...